Video & Search Engine Optimization
Tips for Online Marketing
June 16, 2016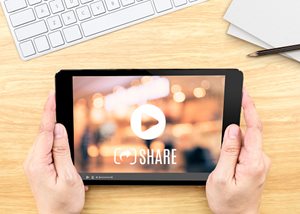 Did you realize that video SEO is actually a powerful search tool?
Consider this: video has geometrically more strength in keyword search engine optimization than digital content. In fact, according to Forrester Research, watching a one-minute video has the impact of reading 1.8 million words, which is the equivalent of 3,600 web pages. (That is NOT a typo!)
Video continues to rise in popularity worldwide. That's why YouTube, founded in 2005, is now the world's #2 video search site. It's also why Google, which was founded in 2006 and is #1, paid a tidy $1.65 billion for YouTube.
Get Your Videos Ranked for Search Terms
Start with effective, simple content for optimal search engine optimization to showcase your company's unique selling proposition. What makes you stand out from your competitors, including strategic advantages, select services, special offers, or a particular skill set, is something that you should promote in video SEO.
Consumers Are Visual Learners
According to Mind Tools, over 65% of the population are visual learners. That's why video search is so important for consumers who are always in a hurry to find that precise kernel of information. In addition, your brain processes visual images 60,000 times faster than you can read and assimilate text, so video is even more important on your website.
Make Your Videos Easy to Find
To optimize search engine optimization for potential clients or customers, create a video archive on your website so people can find the exact video they're looking for. Remember to use video SEO tags for titles and keywords to further enhance video search. You can also use the power of YouTube to host certain high-value video content and redirect visitors back to your website.
Also, if you have separate landing pages for each individual video with select keywords and tags, then your videos can be indexed by the search engines, making it even easier for someone to find a particular clip.
Confused About Video SEO? Call The Experts
If you're confused about these search engine optimization parameters for video SEO, call Moonstone Interactive in the SF bay area. We invite you to contact us today.
Request a Free Consultation