Website Development Project Plan & Checklist
Tips for Web Development
July 17, 2017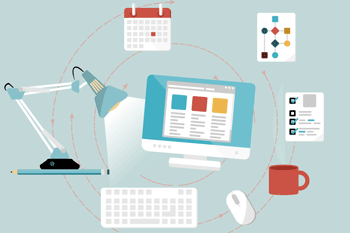 When you're building a new website, you may think that it's not crucial to define the scope and plan beforehand for web project management.

But on project after project over the past 20 years, we've found that it is critically important so that you can avoid running into web development problems during and after the project.

In this article, we delve into what you need to account for when building a new website. We recommend that you try using project checklist templates as your guide, which will certainly be of help to you –– and may save you thousands of dollars by avoiding costly problems later on.

The Importance of Formal Project Plans and Professional Management
If you're trying to create or revise a website yourself, you should be aware that "failing to plan is planning to fail".

Any web developer or web development agency will tell you that for any site, whether it's five pages, 50 or more than 100, you absolutely need to realize that formal project plans and professional management are not a luxury… they're both necessities for a successful project.

Without a plan and seasoned professionals to run the project, chaos will most likely ensue. Key stakeholders may be at odds over budget, the number of case studies involved, or how many items to sell via e-commerce website development.
You need to invest in these resources up front as you create project plans and schedules, often through an experienced outside contractor, to keep your project hitting its milestones.

Successful Web Projects Always Require These Three Core Components
Project management always includes a three-headed dilemma: scope, schedule, and budget, each of which is detailed below.

An up-front definition of these components is essential foundation for the proposed plan for your web design projects' success. And all three must work in concert.

Furthermore, close web project management over the coming months will provide you with early issue recognition and optimal solutions. For example, when you're alerted that your site may expand from 40 to 60 pages, you can take the appropriate steps to resolve any issues without major pain or confrontations.

1) Scope: Any Changes Will Impact Schedule and Budget.
Scope may be a five-letter word, but most website developers consider it as evil as those with four because it represents website additions, deletions or your project's approach, which all impact both schedule and budget.
A few suggestions about controlling scope:
Avoid scope creep by controlling work within the original scope, if at all possible.
Be aware that new web design project requirements or major project change orders should be managed with formal approval of additional scope and associated budget.
These types of changes should also be recognized for how they impact your schedule.
2) Project Schedule: Include All Project Work and Dependencies
Whether internal resources or third party contractors are designing your wireframes and writing your website content , you should refer to your project checklist templates several times a week, if not daily, to meet your deadlines. Though you're likely to have pressure from your company's stakeholders, be realistic with the timeline and be sure to include all project work and dependencies.
This may be helpful for staying within your project schedule:
Remember to factor in holidays and vacation time of key project management team members, as well as other items that can affect your project milestones.
Set up a complete dependency network with critical path analysis.
Track your progress with one of the many reliable tools available, such as Microsoft Project.
3) Budget: Track Time and Costs Relative to Your Initial Estimates
With many ways to help track your time of staff or outside vendors who may be involved in your custom web development, it's important to identify over- and under-budget considerations.

To better control your budget, we recommend:
It's always better to take action about budgets early in your project than later.
It's never too late to be a whistle blower if you notice that your time and costs are rising higher or exceeding budgets compared to your initial estimates.
It's never easy, but facing a budget crisis head-on at any time is preferable to letting it slide until it's a major headache instead of a minor nuisance.

Conduct Regular Weekly Scrum Meetings
If you schedule and conduct regular weekly meetings –– at the same time such as every Monday at 10am Pacific Time –– you can keep your team informed and address task commitments consistently.

For larger projects, you may need to host meetings several times a day, or use online tools such as Slack to let team members submit feedback to critical questions that may affect web development at their convenience, in their own time zones.

Besides the meetings, it's equally important to share consistent reports that summarize the meetings for all the stakeholders. This includes critical milestones that need to take place before the next meeting, how long these may take, who's responsible, and other relevant details.
These weekly meetings:
Keep your team informed and build supportive relationships among your stakeholders.
Bring the key players to the table, which is important in large companies where they may not have met or worked together before.
Provide a forum for discussing possible issues with transparency and clarity.
Prevent disasters because of regularly scheduled meetings to address issues of concern.
Make your team aware of next steps and next hurdles or project milestones.
Enable everyone to be aware of stakeholder feedback and critiques, especially of critical elements such as initial web designs, home page copy, revisions to project schedules, scopes, or budget.
Let the group realize its dynamics, strengths and weaknesses.

One more thing to mention about these weekly meetings: keep them as short as possible because stakeholders attend multiple meetings daily. And always provide an agenda, an updated project estimate, and a revised schedule.

Use Formal Project Plans and Techniques
Make sure that your web design and web development agency is using formal project plans and professional project management techniques.

For example, creating –– and constantly updating –– project plan and checklists can provide everyone on your team with an outline of what will be involved with each stage of your project.

From your initial site map and preliminary estimates, to wireframes and web design , to copy development and photography of your company's key personnel, every item has to be coordinated, scheduled, scoped, and budgeted.

Do You Want to Know More About Web Project Management?
Now that you know how to create project plan goals at the outset of your custom web development project, you can mitigate project risk management issues and let everyone on your team breathe easier.

Your team can also streamline your next project when you discuss it with Moonstone Interactive, an extremely experienced web design and development company.

Over the past 20 years, we've launched over 100 websites from concept to clickability, including a great many that required project management for complex web design projects, e-commerce website development, multiple change orders because of scope creep, and more.

That's why it's smart to talk to us "before" you start a web development project, so you can avoid any issues and expensive fixes "after" your site goes live.