One URL & Responsive Web Design Will Improve Your SEO
Tips for Web Design
October 15, 2015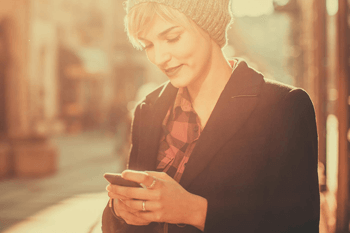 It's been three years since responsive web design first exploded onto the internet, and in that short time it's earned a place at the very center of modern web design. With more and more people using their tablets, smart phones, and other mobile devices to surf the web, it's become essential to create and design sites that are adaptable and functional across multiple platforms. Responsive web design, or RWD, is now the preferred way to create a website that will appeal to the recent influx of mobile visitors.
The most obvious benefit of responsive design is that it's intelligent and adaptive. A website with RWD will reformat itself depending on the size of the screen it's displayed on, and it will also adapt to the orientation of the screen, ensuring that the website will always be user friendly, no matter whether it's viewed from a tablet, phone, or desktop computer. But an added bonus of responsive design is that it's good for SEO. A responsive layout actually increases the chances that a website will do well in search engine results.
There are a couple of reasons for this. The first is that Google prefers it. Considering its ubiquity and the likelihood that potential customers will be using it, it's not the worst thing to appeal to the Google Algorithms. Google has recommended responsive web design for its appeal to mobile users, but it also favors mobile-optimized sites when it comes to search results. That's especially true when a user is searching for local services from their phone.
Still, in these early years of responsive web design, some have opted out of redesigning their existing sites to be more mobile-friendly, and have opted to create a whole new, mobile version of the site instead. These separate sites have their own dedicated URL and a different HTML than the original, desktop version of the site, both of which can negatively affect both user experience and search engine optimization (SEO).
Designing a separate site often requires a reconfiguration of the content -- and oftentimes it's either too stripped down, or too dissimilar from the content on the original, desktop website. Mobile websites designed in this way can suffer from high bounce rates, which Google often sees as a sign that the site isn't offering relevant content to users, which is likely to lead to a drop in its SERP ranking. A redesigned responsive site, on the other hand, uses the same URL for both mobile and desktop browsing. And having one responsive site means you only have one set of pages and files for Google to crawl and index, and not a secondary site forced to compete with the rankings of the first.
For improved SEO, a single site with responsive design and one dedicated URL is the best way to go. And responsive design means there won't be any need to compromise the content that you display to mobile browsers. A responsively designed site displays all of the same content found on the desktop site, but in a way that is functional for the device in use. And when mobile visitors can easily find the information that they're searching for they're far more likely to stay on your page. If you need assistance in making your site responsive please give us a call here at Moonstone Interactive and we can help.