Online Brand Promotion
Tips for Web Design
November 13, 2013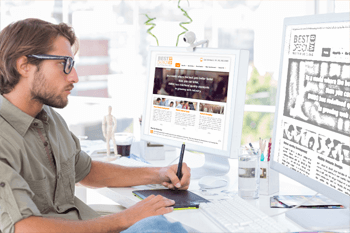 McDonald's does it. So does Starbucks, FedEx, Cadillac, Budweiser, Apple, every other global industry leader, and hundreds of smaller companies.
Relative to their key peers and / or competitors, when a company is well positioned in the marketplace, their brand, backed by a savvy Internet marketing team with an experienced, custom web site designer, can be:
Relevant
Credible
Differentiated
Sustainable
Build Your Brand With Online Brand Promotion. We Can Guide You.
Working with Moonstone Interactive, you can then develop more powerful communications, tools, and business practices to build recognition and attract / retain more of the visitors you want. That, in turn can positively impact acquisition and retention rates, as well as overall assessments of who you are and what you do. This can be a powerful foundation upon which to build your new website.
Build Your Site On A Professional Brand Definition and Strategy.
A website built on a professional brand definition and positioning strategy by a custom web site designer will deliver:
Consistency with your overall marketing communications plan
Targeted website visitors that clearly understand how you help them
Features that your company personnel can use to communicate your value proposition
Recognition to your company as a leader in your market
More visitors and future business growth
If you do not have a solid online brand promotion or definition, we can help you create a strategy to establish your Brand and elevate you from your competitors.