Customer-Centric Web Design
Tips for Web Design
November 13, 2015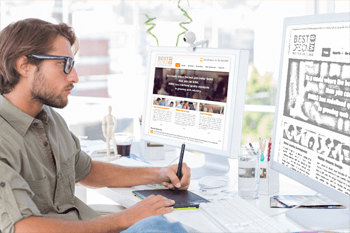 Often times when clients meet with web designers, they already have a pretty good idea about how they want the site to look and function. They want something that is visually stunning and attention-grabbing, with bold colors, unique transitions -- all the bells and whistles. A lot of times this vision for a new, improved website is motivated by a previous lack of engagement with the site. These business owners want more traffic, and they think their hum-drum website is the problem. They're only half right. What they should do is focus on a whole new kind of strategy: customer-centric web design.
Customer-centric web design is exactly what it sounds like: It's a website designed with the customer's needs, problems, and experience in mind. Customer-centric web design means optimizing your website to attract your ideal customer, and it requires knowing exactly what your customer wants. Promotional offers and sales advance the business owner's agenda, but what are your customers looking for when they land on your home page? To find out, go the source. Survey your best or ideal customers and find out what they're looking for.
What was important to them when they first sought your services? Which of the products and services you offer actually solve their problems? What's frustrating or confusing about the current website? Which of their questions aren't answered by your site?
Once you really understand your customers' challenges, you can create a content strategy that responds directly to them and their most-asked questions. This content-first approach might sound counter-intuitive, but useful, targeted content is what should dictate the design of your website, not the other way around. In fact, doing it this way will make your website your best salesperson, a true representative of what your business has to offer. After all, a visually dazzling website is useless if your customers don't find what they're looking for. Frustration with your website is a serious problem if it translates to frustration with your company or business.
Since you've consulted real customers, there's no guesswork involved on your end when deciding which content should be included. The result will be that potential buyers will feel as if you really know them and what they want.
Your new, improved, customer-centric design can still incorporate the visual flair that you first envisioned. But it should, above all, be easy to navigate, with all the right information in easy-to-find locations. The content should anticipate all of the questions that face a typical buyer during the buying process -- and also some questions they haven't thought of yet.
With a customer-centric design, your website will become more than an ad for your business. It will be a resource that they'll keep coming back to, and far more likely to convert your growing page views into sales.