How to Measure the ROI of Your Website Redesign
Tips for Optimization
October 7, 2021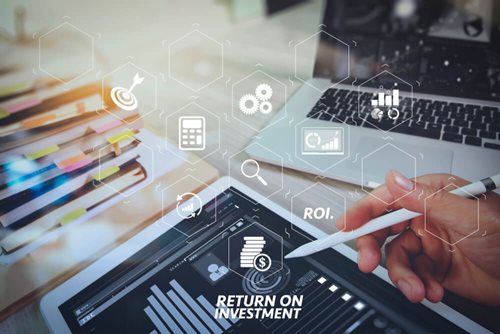 Metrics are critical to measuring the impact of your website redesign. It tells you whether or not your website is delivering the desired customer experiences and needs. In our previous article, we talked about how to maintain search engine optimization (SEO) during a redesign process. While SEO certainly plays a vital part in the estimated increased return on investment (ROI), what is the actual ROI of your website at the end of the day? Here are three ways how you can prove the ROI of your website.
Costs
To determine the overall ROI of your website, you need to determine the overall spending of your website. Your website is an investment and is, oftentimes, one of the first touchpoints a customer encounters. A data-driven design will ultimately deliver better results than an opinion-based design. This includes the following cost factors across initial set-up, ongoing maintenance, and subsequent projects.
CMS: The level of complexity will determine what content management system (CMS) might be right for your website. There are four types of CMS: open-source, digital experience, traditional (coupled), and headless (decoupled). The cost of your CMS will typically scale with the level of complexity required for your website.
Project Management: There are a lot of moving parts during a redesign process. Who's keeping these parts moving towards your goals? Whether it's a digital agency or an internal employee, a project manager is essential to ensure smooth communication, timely delivery, and high-quality deliverables.
Design: Are you planning to use a template or custom-made design? There are pros and cons to both depending on your use-case and resources. A template will reduce set-up costs that could match your needs. However, if you require additional features, you may outgrow this template down the line and require a custom-made design anyway.
Development: Are the features of the site more standard? Or are they more custom? Is the site's functionality complex? Are a lot of specialists required? What is their experience level? The pricing of development can vary greatly based on the complexity and expertise required for your website.
Time
Time is money. How much time are you spending figuring out how to upload content? How much time are customers spending on your website? What is that time worth to your organization?
If you or your customer's time are not being spent efficiently, that's not cost-effective for anyone. Your website is a resource for not only your customers but your company too. As we mentioned earlier, choosing the right CMS for both your website's current and future needs is important to ensure that it not only has the right capabilities but that editors can easily upload content.
Your CMS can collect data on your customer interactions to generate leads and inform your follow-up efforts. It also saves customers time in answering questions that they have and in understanding your company's offerings. With an effective CMS in place, you'll reduce errors and optimize time which reduces the amount of time spent scrambling around to course correct. Overall, the right CMS can enable your team to operate more efficiently.
Time doesn't only mean the time spent on your website but also the duration of time that your website delivers value. If you have to redesign your website every year, then it's not delivering much value and it's going to cost you more in the long run to redesign that website every year. If your website is designed with customer data and informed decisions, it will deliver value for years to come, cost you less, and have greater ROI over time.
KPIs
Determining the right key performance indicators (KPIs) is essential to defining your ROI. Google Analytics is an important tool for tracking and reporting these website metrics. It allows your organization to understand how visitors engage with your website and how to connect with them. KPIs are the metrics used to measure the interactions on your website.
Website Traffic: This is the number of users who visit your website. They are three types of traffic sources, either direct, organic, or referral. This should be measured regularly and can inform benchmarks and goals depending on the source of traffic. Is your marketing campaign working? Track how users are being sent to your website.
Conversion Rates: This is the number of users who visit your website and complete an action. These actions can include form submissions, content downloads, and more. To calculate your conversion rate, take the total number of conversions and divide it by the total number of visitors. If a website has 25 form submissions and 500 visitors in a given period, then your conversion rate is 5%.
Bounce Rates: This is the number of users who visit your website and leave rather than explore additional pages. A low bounce rate indicates that your website is performing well. A high bounce rate indicates that your website is performing poorly. This can be due to a multitude of variables such as poor page speed, lack of responsive design, or lack of personalized content for your target audience.
These are just a few KPIs that you can use to help you measure ROI. Once you have these KPIs tracked and reported, you can leverage these KPIs to understand the big picture. KPIs are more about the short-term impact based on user interactions with your website whereas ROI is more about the long-term impact based on the benefits to the organization.
When defining ROI, you'll also want to consider who is looking at this ROI and what they care about. While most ROI ultimately translates down to money, different types of stakeholders will have different types of priorities. For example, the Operations team may prioritize employee productivity while the Sales team may prioritize customer acquisition.
Get Started
When was the last time you updated your website? Are you seeing the desired results? It might be time to consider working with SEO consultants.
Moonstone Interactive is a data-driven digital agency that guarantees results. Our team of experts will work with you to understand the core needs and customers that your website serves.
If you're ready to get started on a website redesign that will realize your goals and deliver lasting value, reach out and connect with us today.