How Much Does it Cost to Build a Website?
Tips for Optimization
November 14, 2016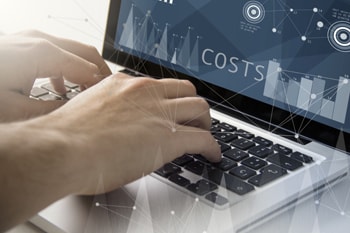 The short answer is that it depends! The longer answer is analogous to "How much does a house cost?" or "How much does a car cost?" After all, there are a great many factors that can significantly impact how much you should pay for a website.
Some common factors for website design cost include design sophistication, the levels of features you may want to add, your content management requirements, your implementation requirements, and various components for project management.
This article will delve deeper into each of these areas to further explain what you should spend for the average cost for website design.
Design Sophistication
The design range is very broad and directly determines how much you should pay for a website. Design sophistication can incorporate anything from a very simple website with a home page and one sub-page layout to complex website designs with unlimited page layouts using many "plug and play" types of widgets or web parts to dynamically constructed pages.
Responsive design is extremely popular as well as a necessity because your website dynamically adjusts the user experience for multiple devices, which is much more sophisticated that a straight desktop layout. While both design and Cascading Style Sheet (CSS) development cost more, Responsive Design is still less expensive than creating and managing multiple websites for different devices.
Complex navigation with mega menus is another factor to consider for web design cost. This navigation is more sophisticated than responsive design and typically includes various pages with calls to action, intra-page navigation tabs, drop-down menus for other sections.
Other components for design for business websites can include animation, custom imagery, icons, infographics, "sliders" that dynamically rotate on the home or inner pages. Of course, the more components you add, the price your site can go higher.
Add a Variety of Website Features
Just a few common considerations for how much does it cost to make a website:
Advanced search can involve multiple filters, predictive results, wildcard search terms, and more.
Interactivity to deeply engage visitors, such as dynamic calendars, calculators, demos, and videos are more involved but can positively affect your ROI.
Adding blogs or forums require categorization, tagging, posting, registrations, commenting, moderating, and more to properly manage these facilities. A personal blog, in particular, can add original content on a weekly, bi-weekly, or monthly to attract an audience and keep them coming back to your website and should be part of your digital marketing strategy.
Online payments require secure payment gateways, encryption, database logs, and administration components, which can certainly affect the cost of an e-commerce website.
Shopping carts can require a detailed online store that encompasses dozens, if not hundreds of products, cart management, online payments, multiple payment choices, gift cards, discount codes, and foreign currency, to name a few.
Online product catalogs, similar to shopping carts, require photography of each product, sometimes with multiple views, as well as databases, inventory interfaces, taxonomy, and other components, which can greatly affect how much it costs to build a website.
Interfaces with internal and external databases, along with corresponding applications.
Content Management Requirements
Sophistication and flexibility of CMS features can directly impact cost, such as:
Content editing features and ease of use
Page template features
Widgets / web parts
Form builder features
Preview sophistication
Permission and security features
Document management features
Image management features
SEO features
Multi-language
Multi-site
Taxonomy
Approval hierarchy
Workflow management
Versioning features
E-commerce features
Product data base features
A/B testing features
Persona management
Personalized content
Online Marketing features
Custom feature integration
Furthermore, CMS platforms include Open Source Systems such as WordPress that provide license-free software developed by many contributors within a branded community for a relatively simple CMS platform.
More sophisticated websites with a broad range of features usually require a robust commercial CMS system with an enhanced user interface, such as Kentico EMS or Optimizely.
In a few situations when the requirements are truly unique, Proprietary Systems can offer the ability to custom-code your company's features and operational processes. These are the most expensive to build and maintain.
Implementation Requirements
Every organization, whether you're five people, 50 or 500, has implementation requirements for your website builder with the overarching strategy to create an affordable website design. These requirements can include:
The size of your website, e.g. ,the number of pages, the documents you'll have embedded in the site, and the number of images and videos on the site
Database conversion requirements
New content / copywriting requirements to make your content unique, interesting, and help convert visitors to customers
QA requirements, e.g., the degree of cross-browser testing and cross-device testing
Training requirements
Hosting requirements
Speed of schedule: fast track, several months, six months or more
Quality of application architecture / code supporting ongoing website stability and maintainability
Project Management Approach
Managing your website project can be a critical job for a successful project. So before you start your website redesign project, think carefully about if you want to manage it on top of your everyday duties. These can include:
A formal vs. an informal approach for your Project Management techniques
Responsive communication to ensure greater efficiency while you go through the process
A regular schedule and budget monitoring / reporting to keep your site developed on time and on budget, which may also include a website design cost calculator
Want to Know More About How Much Does It Cost to Make a Website in 2017?
To start a discussion about how much a website costs in 2017 –– and to see why there's much more to that question than first meets the eye –– get in touch with Moonstone Interactive.
As one of the leading San Francisco Bay Area's leading digital marketing strategy agencies for business websites and the cost of an e-commerce website, we invite you to contact us today.