Conversion Optimization with CTAs for Business Goals
Tips for Optimization
September 1, 2017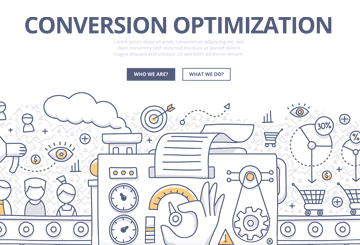 Achieving your company's business objectives with conversion optimization should be the ultimate goal for your website performance––for any company, of any size, offering any products or services.
When designing or even redesigning your site, steps of critical importance to increase conversion rates should include defining the customer journey map and what specific information and steps a visitor will need based on where they are along this journey.
Of course, a typical journey may encompass a series of steps such as awareness, research, selection, purchase, and fulfillment.
How you get there for website conversion optimization requires careful consideration. This article can provide a blueprint towards that goal.
Creating Your Customer Journey Map
Sometimes, a customer journey map is an actual definition of the needed information and how you expect a perspective customer to act, as well as the journey he or she will take from your first contact to the end.
Often, it's a text-based narrative approach to describe the details of that customer's experience that you convert through website optimization services. However, if you have the resources, you can create a graphic representation to help communicate the customer journey for your sales team.
Whatever you choose to use, no two journey maps are the same, just as no two customers are the same. They can start with a click of a Google search results page or a "Like" on your Facebook page, entering their contact information on your Contact page, then you keeping in touch with them through a series of emails, case study downloads, or a free trial offer.
Customer journeys may be based on personas and include a timeline, emotions, customer touchpoints, and channels to further track where they are on their individual map.
How to Start Establishing Your Business Goals
Most companies don't ever take the time to set business goals. In fact, in a recent Staples National Small Business Survey, more than 80% of 300 companies surveyed did not.
But that doesn't mean your company can't start now to create some goals and the corresponding calls to action.
The process of establishing short-term and long-term goals is actually the easier side of the equation. They typically include these variables:
Setting concrete goals such as "provide the best customer experience in the industry" or "increase product share of the market segment by 15% over the next three months" or use "performance metrics" to increase sales by 20%.
Creating a system to support and track your goals like increasing traffic in your lead funnel, reducing form or cart abandoned rates, converting more customers, or increasing average sales per customer.
Aligning expenditures with goals is something that can make a huge difference with such as small fix. Start with a simple spreadsheet, estimate the number of leads you'll need to expand sales, calculate what you need to spend to gain those sales, measure each campaign for return on investment, then keep everyone literally on the same page to attain your goal.
Make sure your team is aware of your goals because too often, the Sales Department is taking a certain approach to gain sales, while Marketing is doing something entirely differently. These conflicting approaches can totally disrupt any momentum that one of the two teams is making through conversion funnel optimization––and be difficult to measure any real success. So make sure that all stakeholders are in agreement and you'll have a better opportunity to measure progress.
KPI Should Represent Conversion
Key Performance Indicators (KPIs) and related performance metrics are an essential part of any business that wants to improve its overall success, though they can vary from industry to industry.
In fact, Key Performance Indicators (KPI) should represent conversion to both the actions along the journey path and the ultimate business objective. Typical KPIs include:
Lower bounce rates for the overall website and individual pages
Higher visitor engagement; e.g. page views, video views, time on site, etc.
Reduced form or cart abandoned rates
Increase downloads; e.g. white papers, case studies, brochures, etc.
Greater self-service customer support actions
Increase in sales, trials, demos, or leads
Higher average sales amount
KPIs can best be measured by using them to describe the intended result of your web visitor's journey, selecting the right measurement for each goal or objective, defining composite indicators as needed, setting targets and respective thresholds, then defining and documenting with website performance monitoring.
Your CTAs Should Be A-OK
For effective, efficient conversion optimization, Calls-to-Action should be a key part of your website design, which includes graphics, placement, and carefully crafted offer messaging to compel your web visitor to ultimately click "submit".
The call-to-action (CTA) should be any visitor action that demonstrates a step in the customer journey. For effective landing page optimization, you may want to conduct A | B tests to assess offers, messaging, CTA placement, colors, graphics, etc. Constant testing and improvement will yield the highest conversion rates.
Based on best practices in conversion rate optimization services, CTAs should include:
1. A benefit statement should be an integral part of the opening copy. These can be statements such as "save $100 if you sign up today", "save time", "stop your back pain", "improve your life", "cut 10 strokes off your golf game", "lose weight––and keep it off", or "make your life easier" features of your product or service.
2. A no-obligation statement gives your web visitors the confidence to click. Basically, you want them to make them a strong offer, such as "Try us, you'll like us" or "Get a free assessment with absolutely no obligation".
3. Instructions on what to do next. These can encompass strong action words such as, "Click the button below", "Sign-up today", or "Just click and we'll do the rest".
4. Offer time-sensitive encouragement to "Respond right away", "Click now", "Click today", or even "Be among the first 10 people to sign up for this exclusive offer today."
What CTAs should not include:
They should not be hidden on your landing page. Make them easy to find.

They should use not use the same color as the background of that page.

They should not be small so make them bold and prominent.

They should not be too long or too verbose. Get right to the point and ask for action.

There should not be too many CTAs on one page.
Are Your CTAs Eliciting Immediate Responses?
CTAs should be relevant to the mindset and the messaging of your page to increase conversion rate. For example, a call to action on a news page may be to read a related white paper, read a case study, or to watch a short video.
Alternately, a call to action on a landing page for a web-based service may be to "Start your free trial today".
But ideally, content optimized for website performance monitoring should deliver benefits to the visitor based on exactly where they are in the customer journey and the Call-to-Action should facilitate acting on that journey path now.
Measuring Results
Measurement is important for understanding what works on your website––and what does not work. Depending on the CTA you're providing, measurement may be as simple as a straight click, or there may be multiple steps requiring funnel conversion optimization tracking.
With funnel conversion tracking, you can see where visitors abandoned within the funnel itself. This invaluable information can enable you to make improvements for optimizing future conversion opportunities.
Also, measuring website performance for individual campaigns, by personas, and by keywords, can provide you with valuable information about different visitor perspectives. This information will help optimize campaigns, landing pages, personalized content, and other factors to help you establish your business goals.
Want to Know More About Establishing Business Goals and Creating Respective Calls to Action?
As we've said above, if you want to increase conversion rates, you can't just publish a website, post a blog, or put up a landing page, then cross your fingers and hope for the best possible results.
You have to establish your business goals up-front, utilize website optimization services, create strong calls to action, then measure them on the back-end with performance metrics.
This may seem simple and straightforward, but it's actually not. Fortunately, Moonstone Interactive can help. For 20 years, we've utilized conversion funnel optimization to maximize your customer's journey.
To get the most bang for your website performance monitoring, let's talk about how we can optimize your opportunities.