Website Personalization for Better Customer Experience
Tips for Online Marketing
August 29, 2017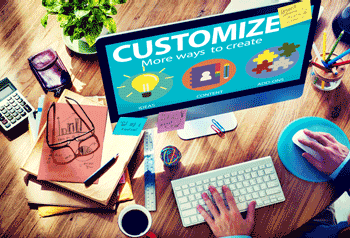 Personalized content on your website or in your marketing can be extremely effective in increasing your user's experience. After all, when you think about it, don't you respond better when you're at the receiving end of personalized marketing with a focused customer experience strategy?
This may include being addressed by name at your favorite restaurant or bank, receiving a tailored email from a long-time retailer with an offer based on your buying habits, or seeing a landing page based on your similar purchases - just like your experience on Amazon.com.
In this article, we discuss the advantages of using behavioral targeting to enhance your website personalization; evolving your content based on demographics, search terms, and referring sources; and further customizing information to your website visitor's persona to enrich their user experience. A combination of all of these components can make it easier to convert your website visitors.
Embracing Customer Experience Management
Also known as CEM or CXM, customer experience management is the collection of a series of processes that a company uses to track, oversee, and organize every potential interaction between a customer and the organization throughout the customer's lifecycle.
CEM is most successful when your company creates a customer experience strategy and focuses on personalized content. This enables CEM to optimize interactions from the customer's perspective and foster customer loyalty.
This strategy typically includes treating customers with knowledge of their personal relationship using:
Integrated, up-to-date data on customer accounts
Interactions through website purchases, phone calls, emails, live chat, text messaging, and social media
An overall 360-degree view of your customers to aggregate this critical data
The Six Percent Solution to Higher Engagement
However, according to Econsultancy, a research firm based in Florida, 88 percent of marketers they surveyed agreed that using a social graph data to personalize their clients' online experience has a high impact on ROI and engagement –– though only six percent use it. That's right… only 6 percent!
Furthermore, more than two-thirds of marketers say that website personalization based on behavioral targeting data can have a higher impact on ROI, with nearly three-quarters saying it correspondingly has a higher impact on engagement. Again, only a small percentage of marketers –– 19 percent –– actually do this.
So if you're not optimizing content with personalized marketing, you're automatically missing the opportunity to increase conversions for between 81 and 94 percent of your online visitors!
Even personalizing an email with the person's name here and there is better than not using it at all. Just imagine the power of seeing their name, their company's name, their industry, or their topic of interest in the subject line of an email.
Or the emotional connection of using their first name in an email or a landing page instead of "Dear Friend" or "Dear Valued Client". This seemingly small, insignificant change can make such a big difference in the long term.
And when you thank each individual person for visiting your website or for responding to your first email, you can make another connection by using their first name in the follow-up email, as well.
Making Conversion Easier than Ever
Have you ever noticed Amazon's one-click purchases button shown prominently on the top right side of their Order page? Using existing customer information to make transactions faster has become widely copied throughout the e-commerce industry for confirming online purchases –– quickly, easily, and effortlessly. It also diminishes shopping car abandonment.
This is just one very simply step to take to simplify your web visitor's conversion process and improve your overall responses to your marketing efforts.

Using CMS Solutions to Enhance Sophistication
Another facet of your customer experience strategy is personalizing online content offerings for autonomous users with more sophisticated CMS solutions such as Kentico and Optimizely
Using either of these powerful platforms can result in higher conversions across multiple channels based on demographics, geography, search terms, prior pages visited, referring sources such as directory listings, and more.
For example, Kentico is a fully integrated ASP.NET CMS, e-commerce and online marketing platform:
This combination of solutions lets you save time and resources to accomplish more in about half the time
Kentico's Online Marketing solution provides you with a fully integrated 360-degree view of your customers, allowing you to offer personalized content for every customer experience
With Web Analytics, Lead Scoring and Marketing Automation, you can nurture leads, analyze, and optimize your campaigns to deliver the right message to the right person at exactly the right time
Meanwhile, Episerver is a great tool for customer experience management as the only unified platform that puts digital content, e-commerce and marketing all in one screen:
Episerver enables authors, content managers, and marketers to create and use compelling content across multiple channels
Episerver Marketing lets you create, personalize, and orchestrate your campaigns from a single screen for content, email, messaging, social media, and print.
Episerver Digital Commerce platform can yield amazing results with ease
And Episerver Personalization helps you outsell platforms that don't try to personalize
Customer Journey Mapping: The Ultimate Customizing of Information
A customer journey map is like a road map that illustrates the steps your customers may go through to engage with your company:
It may begin with seeing your company in keyword search results related to your products or services
Deeper engagement with your company may be motivated with an email asking them to visit a landing page to receive more information about your product or service
Another touchpoint may be to order your product for a free 30-day trial
A follow-up email a month later may attempt to capture their feedback or more information about their specific buying habits
Subsequent emails may ask for them to write a review about their experience on social media or share a tweet
Finally, you may complete their customer journey mapping when they make a purchase or an upgrade to another product or service you offer.
But whatever program you use for email marketing, remember not to bombard your potential clients with too many messages. Try to appeal to their persona with targeted emails such as for their favorite products, movies, books, or travel destinations that are most relevant to what you offer.
As they increase their engagement with your company, you can keep sending them emails, but you can cut back to fewer emails in number to achieve better, more efficient results. Otherwise, you always run the risk of having them "unsubscribe" from your messaging platform.
Update Your Website With Dynamic, Personalized Content
One of the most overlooked aspects of having a website is showing the same old stale content, month after month, year after year. When visitors come back to your site after receiving a personalized email or reading a blog, they expect to see something new and different.
So why not utilize behavioral targeting to create personalized content? With sophisticated CMS solutions, such as Kentico and Episerver, you can provide different content based on individual personas and stages in their buying journey. Use your customer journey maps to indicate what is most relevant to each visitor based on their behavior.
If the visitor has demonstrated interest in certain industries, products or solutions based on prior visits, promote the information related to their interests. If they are early in their buyer journey, promote white papers and case studies. If they are later in their buying journey, promote a free trial or special product purchase offer. Presenting information relevant to the individual visitors will increase website engagement and ultimately sales and customer retention.

Do You Want to Know More About Website Personalization?
We've now shared our insights on customer experience management and sophisticated CMS solutions for behavioral targeting. With this information, you can see that enhancing your visitor's user experience is not overly difficult to achieve.
However, if you need some guidance, Moonstone Interactive can provide it. We can enhance your results with website personalization by utilizing increasingly sophisticated tools that can delivery user experiences according to your customer journey map.
Let's discuss how we can help you deploy the right customer experience strategy to reach your target audience and lead them to the right content on your website.
Request a Free Consultation