Voice Search and How You Can Produce Voice-Optimized Content
Tips for Online Marketing
June 20, 2018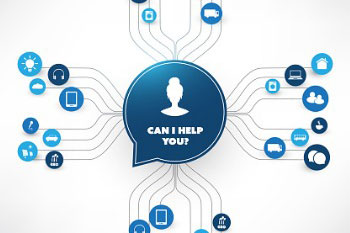 Voice search is becoming increasingly popular with predictions for it accounting for as high as 50% of search queries by 2020. What started as a novelty when Siri first entered the market became commonplace as Google Voice Search and Alexa—and several other voice recognition apps—joined in.
Voice technology is a further step in the path to improving the total user experience, relying on Natural Language Processing (NLP) to recognize voice texture, interests, intent, and user behavior. It has gained its popularity quickly because it's way more convenient for a user to speak with an assistant than to type and because the results of voice queries are much faster.
The first step in learning how to use this trend to your advantage is to understand the characteristics of voice search and how your content needs to be optimized to support such characteristics.
Here are four key characteristics of voice search and the tools and techniques you can use today to stay ahead of the game.
Voice-optimized content needs to support the longer, more conversational nature of search queries.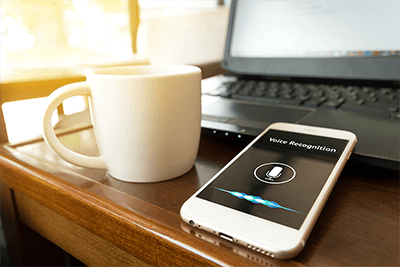 Because using voice search does not require the physical effort of typing, the average length of search queries has increased from 1-3 words to 6-8 words. These long tail keywords are more specific and although they may get less search traffic, they tend to have a higher conversion rate precisely because of their specificity.
They are also different in style. When users type their search queries, they use computer language or a more formal way of communicating with the device they're using. In voice search, users adopt natural language instead, mostly question phrases—who, what, when, where, why, how—reflecting how they speak.
These question phrases reflect users' degree of intent. "What", "who", or "how" questions show users are in a research phase, while "when" and "where" questions indicate their readiness to purchase.
To provide voice-optimized content that answers these questions and provides relevant search results, you must first learn how your target audience speaks about your business, products, and services.
Here are three tools you can use to start your research.
https://answerthepublic.com — a semantic search query data visualization tool that presents you with natural language phrases, questions, prepositions, and alphabetical lists related to the keyword you entered. If you sell "cupcakes", this tool will suggest the following questions your target audience may be using in voice search:

will cupcakes stay fresh in the fridge?
who ships cupcakes nationwide?
where should cupcakes be stored?
can cupcakes be made a day ahead?
are cupcakes and muffins the same?

https://www.storybase.com — a powerful long tail keyword reverse search engine that reveals how people use voice search, letting you know what your potential customers want and what their challenges are. They offer a 14-day free trial.
Google Analytics— log in to your account and check out the long tail keywords people use to find your content.
Voice-optimized content needs to support the local nature of voice search as users utilize their mobile phones on the go.



The majority of voice queries are for local content with "near me" searches being used extensively. Recent research by Google states that 50% of mobile users are most likely to pay a visit to a business after conducting a local search and are ready to purchase once they are inside such business—with 18% of local searches leading to sales.
Here are three strategies to optimize your content for local voice search queries.
Claim your Google My Business listing. Optimizing your listing is a great way to have Google find out more about your business, like the category of business you're in, your address, phone number, business hours and more. Your chances of showing up when a voice search is done pertaining to your local business, location or business category increase when this information is up-to-date.
Incorporate the following keywords into your SEO strategy to take advantage of the local intent of voice search:

Phrases used to describe the area around your location
"Near me" in your title tags, meta description, anchor text, and links
Known landmarks in the vicinity of your business location
Titles of local institutions/establishments relevant to your business

Utilize AdWords' Location Extensions to dynamically attach your business name, address, and phone number to your AdWords campaigns—whether you have single or multiple storefronts.
Voice-optimized content needs to support users' need for immediate results since the top use of voice search is still rooted in personal assistance.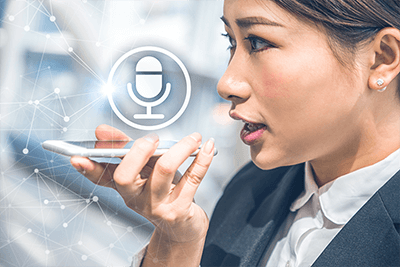 When users are utilizing voice search for general and local information, you can no longer expect them to take the time to visit your website. To satisfy this need for speed, your relevant content should ideally appear as a Google Featured Snippet above the fold.
Featured Snippets take the coveted "position zero" space as they appear on top of all other search results. Users question phrases get answered within the voice search results and are pulled from relevant websites. Included in the snippet is both a summary and the details of the web page where the answer was pulled from with its URL. Finding answers has never been easier now that users don't have to click on anything to view the information they're looking for.
Here are a few tips to create voice-optimized content Google will consider since there is no exact formula for earning a featured snippet position zero spot.
Use http://semrush.com/ to find out which featured snippets your competitors have earned as well as which featured snippets you're already ranking for.
Use Google's "People also ask" section to uncover featured snippets opportunities.
Find content ideas on Answer the Public (mentioned earlier) since questions are most likely to bring up featured snippets.
Utilize https://serpstat.com to see which keywords bring up featured snippets on results pages.
Focus on developing one solid page of content that answers multiple questions rather than multiple pages that answer a single question to earn featured snippets.
Add a "how-to" section or a Q&A area to your website to give answers to your users' specific questions and pain points.
Include high-quality images and video to help you rank for featured snippets since most people learn visually.
Voice-optimized content needs to be mobile-friendly since voice search is used almost exclusively on mobile.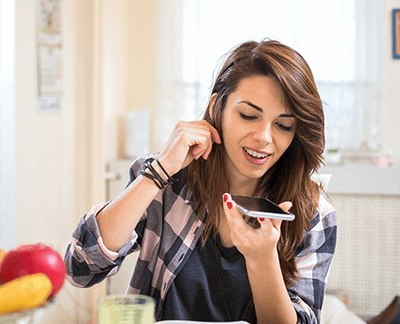 Although you may have been optimizing your website for mobile for a while now, Google's own research says that mobile bounce rates are around 10% higher than desktop. If users click on your website in search results and find it poorly optimized for mobile, they'll probably return to the results and try again. Take advantage of Google's own Mobile-Friendly Test here to see how your website scores.
Here are a few tips and tools for what you should work on.
Improve your site speed. You can use Google's PageSpeed Insights tool at https://developers.google.com/speed/pagespeed/insights/ to find new ways to improve your mobile site speed.
Make sure users can scan your mobile content. Voice searchers in mobile devices will not be reading lengthy content in small screens. Use headers to break up the information, use simple sentence structure, keep paragraphs short, and visually illustrate your point when possible.
Keep in mind that mobile users will navigate your website using a thumb and maybe an index finger. Minimize your exit rate by making sure elements like buttons and links are far apart from each other and use tools like MobileTest.me at http://mobiletest.me/ to see how your website shows up on different mobile devices.
Monitor the performance of your mobile website by closely watching your analytics and seeing if there are performance-related differences in mobile versus desktop traffic.
Does your current content strategy include voice-optimized content to support the increasing user demand for voice search?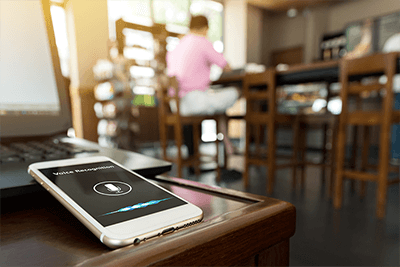 Switching gears from the keyword strategies of the past to natural language long tail keywords that attempt to predict the many and different questions users will ask about your business, products, and services can feel overwhelming. And that's just one of several steps you need to take to incorporate voice–optimized content into your overall online marketing strategy.
We're here to help. Voice-activated search is not only here to stay, it's expected to grow quickly and significantly. Let's discuss how you can take the necessary steps to embrace this technology and end up ahead of your competition.
Let's discuss the benefits of using Voice Search to Increase your results.