Starting a Blog
Tips for Online Marketing
March 18, 2013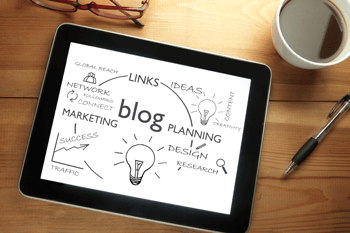 Technorati, the leading blog search engine and directory, indexes more than 1,250,000 blogs. Its latest "State of the Blogosphere" states that starting a blog is easier than ever and that blogs are now influencing millions of readers. Every year, tens of thousands of people are creating a blog about a wide variety of topics: news, entertainment, business, sports, politics, autos, technology, fashion, science, the green movement, marketing, and more.
With the expanding use of smartphones and tablet computers, 25% of all those running blogs are now engaged in mobile blogging as the lines blur between blogs, micro-blogs, and social networks.
How To Succeed in Starting A Blog Without Really Trying.
Moonstone Interactive recommends these best practices for success in running blogs:
Proactively deliver new content – When you're creating a blog, you're also launching a great feature for delivering new content to attract repeat visitors to your blog, encourage discussion, and convey the expertise of your company to stimulate both interest and loyalty. Blogs need regular articles or posts – After starting a blog, how often should you publish an article or a "post"? Five times a week? Three? Once? It depends on how large your audience is, how much you have to say, and how often you want to say it. But a good rule of thumb is to publish once a week, then more often if you like, with articles of 200 to 400 words.
Blogs should be SEO optimized – Those in the know about running blogs make sure that each article has two or three sets of Search Engine Optimized keywords or "tags" unique to that article. So when your audience searches for certain words, such as "creating a blog for beginners", they may find yours.
Build a large blog network to increase your market visibility footprint – The more articles you have after starting a blog, the greater your chances of someone finding you through Google, Bing or another major search engine, which may lead to you closing a sale through something as simple as a blog.
Measure your results – The key is knowing if your blog contributes to your overall business objectives. Monitoring the ROI of your blog enables you to see if you are actually attracting the right market segments, if your messaging works, and what content needs further improvement.