Five B2B Marketing Strategies
Tips for Online Marketing
November 10, 2016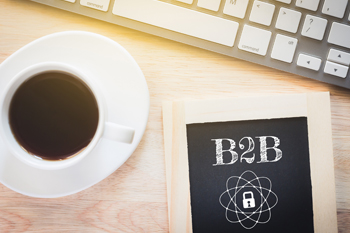 Which five B2B marketing strategies for 2017 will your company embrace? Will you start with content marketing? Will you test the power of email marketing? Will you explore landing page creation or PPC for Google AdWords? Will you write a blog a week? Or will you perhaps have a laser focus on CRM marketing automation to increase leads and expand your marketing database?

These are among the most popular as part of your overall B2B marketing services. And over the past 20 years, we've had the pleasure of working with many medium to large-sized companies with huge business-to-business advertising budgets who have utilized many of these techniques with great success.

Today, as businesses continue to do more of their business online, it's essential to embrace these top five B2B marketing strategies for 2017 to optimize your ROI. This article delves into the most critical strategies that your business needs to succeed, including how to come up with a digital marketing strategy, what to do with your website, how to use search marketing, how to optimize social media marketing, and how to start blogging.

What Business-to-Business Marketing Strategies Do You Need To Succeed?
Whether you create it yourself or hire a B2B marketing agency with deep experience, your company needs a bulletproof marketing strategy. It should encompass:
An analysis of your company's current marketing plan and performance to date.
Assessment of your competition identifying what you need to do to "win".
A comprehensive, unified marketing strategy to reach your primary and secondary audiences with a marketing calendar for six to 12 months.
An overall B2B marketing services strategy to grow your brand, optimize your ROI, gain new customers, and retain current customers.
An analysis of all the critical media you need to reach your audience, typically blending traditional offline media (print, radio, television and/or outdoor) with online media management (social media, videos on YouTube, mobile media, etc.) and perhaps even direct response projects.
A high-level creative branding campaign that will resonate with your audience.
A marketing and media budget to reach your target audience.
A rationale and key performance indicators (KPIs) to measure response and pivot your campaign if necessary.
How Can Your Website Increase Sales Leads?
As you know, the more you invest in your website with high-quality design, enticing images, well-produced videos, and professionally written content, the better it resonates with your potential business-to-business clients. In addition, your website should result in higher search engine rankings for mobile search.

Approximately 80% of Internet searches are now being performed on smartphones. So first and foremost, your website should feature mobile responsive design. And if your website is not showing up on a prospect's mobile device, he or she will abandon your site and look for a competitor's.

Second, hire a mobile web design expert to create your website with a great layout using a popular content management system. Don't leave something as important as website design to your marketing director's nephew or someone you found in another country to save money. This is a critical investment in your company's credibility.

Third, hire a professional writer and a SEO expert to combine the most appropriate keywords into your website content for optimized organic search. Warning: If you try to do this yourself and use a higher keyword density than the search engine guidelines, this strategy can actually backfire and your site will not be listed on Google. That writer or others can also contribute to your blog archive.

Fourth, add an "explainer" video that tells the story of your company as part of your B2B marketing services strategy. These videos are typically 60 to 90 seconds long, housed on your home page and YouTube, and provide a unique value proposition for how your product or service will benefit your prospects.

Fifth, also consider CRM marketing automation through inbound marketing and sales software companies like Marketo or HubSpot. Or, upgrade to a more sophisticated Content Management System (CMS) with integrated marketing automation features, such as Kentico or Episerver. By relying on automated marketing campaigns to reach your target audience, you may be able to capture, nurture, and close leads on a single platform.

What Can You Do To Attract More Prospects?
When discussing how to create a b2b marketing strategy, it should always include Search Engine Optimization and Search Engine Marketing to increase leads.

What's the difference? Search Engine Optimization (SEO) is organic search, while Search Engine Marketing (SEM) is paid search. SEO utilizes a formula of relevant quality content, keyword density, and inbound backlinks to gain high rankings with the major search engines like Google, Yahoo! and Bing. However, this algorithm changes at the whim of the search engines, so you have to keep abreast of them to increase your chances of a good search outcome.

SEO is much more than knowing how to correctly write H1 titles, meta tags and add a few links. SEO is a science that has to interpret changing algorithms, artificial intelligence searches, and variations on your primary keyword phrases to truly be successful. Done correctly, SEO can bring qualified prospects to a specific page on your website.

Meanwhile, SEM is an equally important part of your b2b marketing strategies for
qualifying your leads. When you use paid search ads, also known as Google AdWords or pay-per-click ads, and use landing page creation to summarize your product or service benefits, you can measure your success in attracting new clients. Google has always been the most popular paid search platform, followed by Bing and Yahoo!

To succeed in paid search, set your monthly budget, establish your "offer" for your target audience(s), test keywords with respective ad copy, review your responses and conversion results, tweak your campaigns, and continue to test. The ROI is very measurable.

4) How Do You Optimize Brand Awareness?
The popularity of social media continues to rise. Most people have a Facebook account; after all, there are over 1.6 billion users worldwide. But as part of your digital marketing strategy, we recommend building business brand awareness for social media with LinkedIn, rather than Facebook. Furthermore, you can try focusing on micro targeting to specific events, messages or even advertising.

For example, buying ads on LinkedIn to promote your products or services is a great marketing tactic to reach your subscribers. To retarget your ads, just choose your audience based on their demographics and serve your content to them within their social media

You can also boost your social media posts for event marketing to geometrically expand the number of eyeballs on a post, driving much more traffic in a shorter time for a small budget. This is certainly worth testing as part of your social media marketing campaign.



5) How Do You Increase the Value of Your Website Content?
Most companies launch their websites with core product and services content , then add content over the months and years. One of the best-known secrets of how to create a B2B marketing strategy is by starting a blog, then maintaining it with frequent posts. Why?


Because something as simple as one blog like this one can:
Demonstrate value to the search engines by updating your website frequently with relevant, helpful content for visitors.
Contain a combination of several keyword phrases to help optimize that specific page for SEO organic search.
Be found by a potential client searching for keywords like: "B2B marketing services" who receives value from your knowledge of this proven tactic.
Be the first in a series of blogs about a newsworthy topic or the first of an archive of dozens of blogs that your company posts on your website.
Help you leverage the advantages of your products and services vs. your competition.
Gain you recognition as a subject matter expert in your industry for interviews, speaking engagements, webinars, book offers, and more.
Widen your company's –– or your –– digital footprint with each successive blog.
Write longer blogs such as e-books or create a series of videos to deliver much more content to further connect with your audience.

However, not everybody has the talent to actually write a blog. That's why you can reach out to well-known writers and tap them to become your guest bloggers. This helps promote their good name, add important content to your website, activate link sharing, and hopefully, generate significant traffic to your blog.

Want to Know More About Creating Five B2B Marketing Strategies for 2017?
Any business-to-business strategy should be focused on your ROI. Whether you need help creating that strategy to optimize your website, use search marketing to boost the number of visitors to your site, include social media marketing as part of the mix, or how to start blogging, get in touch with Moonstone Interactive.
As one of the leading San Francisco Bay Area's leading B2B marketing companies for online marketing campaigns to increase leads, we invite you to contact us today.