Common Website Mistakes
Tips for Online Marketing
November 18, 2015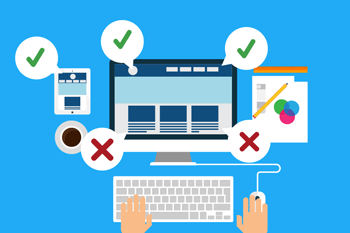 As a business owner, you know that it is important to have a website for your company. In the online world, that is only the first part of the equation of getting more potential customers or visitors to your site. There is a lot of competition online fighting for your customers which means you need to make your site stand out in search results. There are some common mistakes we see when analyzing a website in regards to the optimization and we want to help you avoid these mistakes.
The biggest mistake we see is not clarifying exactly what your site it on the home page. When someone finds your site and they enter on the home page they want to know exactly what your company does and who they are. You want to make this extremely clear. Too often we see really pretty designs or images on the page and a few links with no real description of what the site is about.
Another mistake we often find is trying to put too much information on one page of the site. This can overwhelm the person who is looking at your site. They get to your page and are inundated with too much information or even too many images or colors. You want to keep the visitor on your site once they get there and if you make the site too hectic it can make them click away quickly.
These would be the two biggest areas to look at when designing your website. If you don't make it clear and easy for the visitor it can create a lot of issues in keeping them on your site and then continuing on to follow your call to action. You've taken the time and effort to build a website so you might as well get the most benefit out of it as possible. There are a lot of areas to consider, but if you follow these two mistakes as guidelines of what not to do you your site will be 10 steps ahead of a lot of your competitors.