How UX Impacts Conversion Rate
Tips for Experience Design
March 9, 2023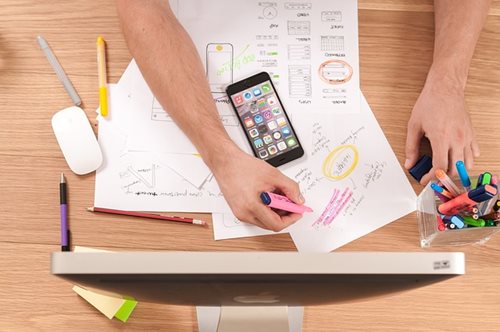 One of the essential factors that can make or break conversions is your website's user experience (UX). Numerous variables influence the UX conversion rate. Investing in comprehensive UX experimentation tools enables you to test user responses to multiple usability enhancements, compelling messaging, and beautiful web design to optimize user engagement and conversion.
Remember, the user experience's purpose and measure of quality are to exceed the users' expectations for ease of use; clearly understanding the value of your products and services; executing actions, and enjoying their time on the site. When you elevate the user experience, you increase customer trust and conversions. Your UX design conversion rate is crucial for goal conversions, from initial lead generation to customer retention.
User experience is not only for sales goals. UX for servicing and support functions significantly affects customer attrition for businesses that provide products or services that are available as subscriptions. A great website mixes stunning design with deliberate functionality to deliver a remarkable, seamless experience for customers while at the same time advancing your business goals.
What Is a Conversion Rate
The number of conversions relative to the number of users, expressed as a percentage, is known as the conversion rate. It is best to monitor conversion rates by various visitor attributes, such as types of visitors, acquisition channels, devices used, campaigns, and experiments.
Increasing the proportion of users or website visitors who perform the desired action can optimize the conversion rate.
Dividing the number of conversions by the number of visitors sourced by individual campaigns, ad interactions, and experiments within the same period yields the conversion rate by the campaign. Detail campaign conversion rates tell you which campaigns and experiments work better than others.
It is best to establish conversion rates to identify success and improvement areas for both business and user engagement goals. These results provide invaluable insights into visitor behavior and conversion rate optimization.
What Influences Conversion Rates
A website's primary goal is the UX conversion rate. Conversions are an excellent indicator for monitoring design advancements since they track whether people perform the desired action on your website (or lack thereof). Revenue, consumer satisfaction, and brand loyalty all increase as a result.
Understanding your conversion rate and the factors that can help increase and influence your organization's conversions is the first step toward raising it. If you're wondering what affects conversion rate, here are seven factors that can affect your conversions to get you started.
Landing Pages
When converting leads, your landing page design is crucial since it tells visitors all they need to know about your company as soon as they see it. Potential buyers must be drawn in and encouraged to continue browsing by everything from the content on the landing page to its design and imagery.
SEO (Search Engine Optimization)
Building a solid SEO plan, which involves keyword research, SEO copywriting, search engine marketing, and social media marketing, is the most potent approach to affect conversions. Concentrate on what your prospective customers want, what words they are likely to search, and what social media they use relative to your products and services. Remember to build your SEO strategy to target your ideal customers explicitly.
Good SEO can boost your website's traffic, ranking, and exposure, resulting in more targeted prospective visitors. The SEO conversion rate will then depend on the user experience, design, and content caliber to fulfill the site's business goals.
GOOD UX Design
Effective UX Design is intuitive, enabling visitors to find what they want quickly and take action without friction. Visitors are likelier to be potential customers, boosting the UX conversion rate.
Make sure your website is simple to navigate and can help potential clients obtain the details they want about the goods or services you offer. You may enhance your UX in various ways to make it easier for your visitors to utilize.
CTAs (Calls To Action)
Calls to action facilitate visitor navigation to purchase a product, generate leads and convert site visitors into clients. Calls to action also give your audience an easy way to contact you or share your material on social networking sites like Facebook, Instagram, TikTok, and Twitter.
Integration of Social Media
By publishing blog or website entries and sharing them on social networks, businesses may enhance the amount of content they produce by integrating social media. Companies can interact with customers via social media, create a community around their brand and establish a rapport with clients through customer care.
Mobile Friendliness
More people utilize mobile devices than laptops or desktop computers. Mobile devices often have higher conversion rates than computers do. It also helps that potential customers can see your site and what you offer when they are on the go.
Mobile UX optimization enables you to give a smooth experience across all devices, increasing conversions and generating leads for your company.
Quality Content
A website with high-quality content will probably convert more visitors and aid in conversion optimization. Content with a solid connection for prospective buyers gives them all the information the visitor wants. As a result, they will trust your company or website as a credible source of information.
How Are Conversion Rates and Good UX Related
Whether you're an e-commerce website, which means sales, or trying to increase the number of registered users or subscribers, good UX design will persuade visitors to reach a planned end. Consider how you guide the user toward these objectives as you define the Key Performance Indicators (KPI) for which you are creating.
Once you are familiar with your KPIs, establish platforms and goals. A better design encourages people to return and fosters more brand trust. To optimize improvements, you can design experiments and test them.
However, there are also some observations that you should make while assessing designs to improve user behavior leading to your business objectives. You can measure usability metrics to see how a user has interacted with your website. Consider the following:
Landing Pages
Your opportunity to leave a lasting impression on a new or returning user lies on the landing page, which is also an excellent spot to have a landing page split test, also known as an A/B test, for your designs. Consider employing video instead of text if you're searching for methods to enhance user experience on a landing page.
Videos make it considerably more straightforward and more effective to convey your value proposition, and compelling video motivates users to accomplish page objectives while doing so. When creating landing pages, consider incorporating reviews and endorsements to provide social proof for your good or service.
By demonstrating that others have used and valued your product, social proofing lowers the entrance barrier to it. Additionally, avoid false floors that give the impression that there is no material below the fold and promote scrolling by using buttons, arrows, or text that extends above the fold.
Ensure your landing page has clear calls to action to keep consumers on your website and convert more visitors.
UX Copywriting
Since UX copywriting aims to get users' attention and persuade them to take action, the position is ideal for writers with a more robust marketing orientation. By offering customers a smooth navigational journey around your website with clearly identified activities and stages, UX copywriting enhances user experience.
UX copywriting deviates from UX writing, which maintains text clarity and conciseness while giving the user essential information to enhance the experience.
CTAs
Prominent display of key CTA buttons takes design talent and expertise to choose the right time and place for a CTA button. Users can easily understand what they're clicking on, why they're clicking on it, and what will happen when they click.
Collect detailed website events and conversion data so UX designers can assess whether moving a CTA button significantly influences goal conversion rates. Deliver critical call-to-action buttons above the fold or attempt to get readers to scroll down the page.
Typography and Text
You want to make it simple for consumers to read the language on your web page. Use responsive design best practices to deliver content responsive to various screen sizes.
Make sure your writing is readable, and consider that possible buyers may be color blind or have visual impairments. Additionally, this will assist in making your website more accessible, which has several benefits of UX Design.
Your material will be more accessible for search engines to crawl and index if it is made accessible for users with disabilities. Following best practices can not only make your website more accessible, but it may also have the added benefit of better preparing your material for voice search tools that provide aural results directly from websites.
Speed
Page speed is one of the crucial factors used by Google to rank your website. Customers anticipate quick websites. Customers will typically quit your page if the load time exceeds two seconds. In addition to being negative for user experience, a sluggish website conveys an unprofessional image of your company.
Site performance is essential for retaining online customers since those with a bad experience are less likely to return to the same store.
Navigation
Users navigate your material by discovering what they need to find and carrying out tasks that are significant to them and your brand. Excellent information architecture is the foundation of great website navigation.
Your website's header navigation should be simple to make the page look less cluttered and make high-value activities stand out more. Complex operations should look intuitive for the user through user interface design while remaining highly functional.
A site search feature that takes advantage of the information architecture you've built should be supported by well-planned site navigation so that people can easily find what they're looking for on your website.
Improve UX To Increase Conversion Rates
Users must be able to quickly comprehend where they are, where they were, and where they may go at any time during any encounter. The experience should employ words, expressions, visuals, and ideas familiar to the user communicated in their language.
Consider if this step leads consumers to a sensible next one. Ensure there aren't any "dead ends" to prevent users from ever feeling stuck or lost. You will get the best results when you use consistent language and design throughout the website.
Never depend on the user's expertise. It is advisable to presume that they won't grasp any action, language, or layout if you are unclear if they will or not.
Be careful to include all types of users, including novices, experts, and those with various demands. Also, avoid information that is unnecessary or infrequently used.
Each additional piece of information competes with the pertinent information and reduces their relative exposure. Assure the user that their actions are successful by providing confirmation. Our brains naturally hunt for acknowledgment about our interactions, whether you're dealing with a website or a live person.
Need help in creating your UX-friendly website to improve your conversion rate? Contact us for more details.