What's So Important About Integrated CMS Lead Nurturing?
Tips for Content Management
March 31, 2017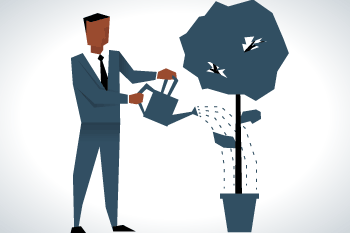 Why are more and more companies becoming maniacally focused on CMS integration to optimize lead nurturing?

The answer may surprise you, because to truly nurture an integrated marketing solution, you must embrace the rationale behind Customer Journey Mapping. Essentially, customers may follow a basic journey from Awareness to Interest to Consideration to Purchase to Loyalty. An important objective of any integrated marketing solution is to nurture the prospect / customer throughout this journey.

What Happens During Customer Journey Mapping?
Typically, early in the journey a business customer may be anonymous. This can often be a website visitor from a third-party source such as a PPC campaign, through organic search, a display ad, a guest blog, a social media post, etc. But once the customer gets to either the interest or consideration phase, they may provide some identification information such as a name and an email. During the purchase and loyalty stages, we note that we have gathered the most information about the customer.

There are many tools that support marketing and customer interaction through various steps along the customer journey. These tools type to fall into categories:
Content Management Systems (CMS) such as Optimizely, Ektron, Sitecore, and Kentico
Marketing Automation Software such as Marketo, Hubspot, and Eloqua
Customer Relationship Management (CRM) Platforms, such as Salesforce, Oracle CRM On Demand, and MS Dynamics
However, to truly integrate your marketing solution throughout the entire customer journey, you need to be able to tightly couple all three of these functions to recognize the customer as a single entity. Naturally, the more you recognize the characteristics and history of each customer, the more that you can respect and deepen both your relationship and customer loyalty.

It's important to note that a core principle is to personalize the customer experience based on their relationship.

CMS Position in the Journey
The CMS basically manages all content delivery for your prospect's or client's website visits. You can optimize the impact on each visitor by recognizing where they are in their journey and delivering optimal content. With a sophisticated CMS that enables personalization and persona management, you can start personalization early in the journey by customizing images and messages for persona attributes, such as geography, search terms, source, prior behavior, or specific referral data leading to a specific content.

By integrating information about marketing automation emails sent or opened, a sophisticated CMS can reinforce the current offers and email history. Customers may visit the website through an email link or through direct access. Either way, you can identify that person and reinforce prior emails and behavior, respecting their relationship and staging in their journey.

Marketing Automation Position in the Journey
Marketing automation dynamically manages the ongoing communication campaign with leads and customers. It controls the message and frequency of communication based on lead or customer interaction, such as follow-up emails based on your website's form submission, email opens, email link-clicks, communication frequency, and the like.

By integrating information from the CRM system about sales calls, qualification, and off-line information, the marketing automation system can send the appropriate follow-up and nurturing massaging or offers via email.

CRM Position in the Journey
The CRM basically facilitates and captures information about the off-line sales process. A sales person can update lead information, sales meeting schedules, qualification information, and additional customer characteristics. The CRM is invaluable in supporting your company's sales force in closing the sale.

Of course, the CRM can also be using in ongoing customer support and expanding the relationship.
By integrating information about the sales lead from their initial journey, such as original search terms, specific downloads, page views, emails opened, etc., your sales person is able to respect the customer and build rapport by having more personalized knowledge about their interests.

Integration Options
There are basically three approaches:
Individual systems with limited single information transfer in the direction of the initial journey from awareness to purchase. This is the basic approach of writing interfaces using standard APIs for down-steam connections. The cost and benefits are both limited.
Pros:
Cons:
Requires multiple application knowledge, more training and coordination
Increased ongoing costs for information reconciliation between systems
Limited "true" personalization
Sophisticated "digital hub" solutions that enable asynchronous information between the CMS, Marketing Automation and CRM applications. Episerver and HubSpot have very sophisticated digital hubs specifically for this benefit.
Pros:
Reduced costs for information reconciliation between systems
Greater true personalization potential
Cons:
Increased software / development cost
Integrated solutions, such as Episerver CMS and Kentico EMS have sophisticated marketing automation within a single architecture.
Pros:
Integrated customer tracking for optimal personalization
Simplified application knowledge and training with a single dashboard
Eliminates costs for information reconciliation between systems
Reduces cost of a separate Marketing Automation application
Cons:
May miss some deep sophistication features within a specialized Marketing Automation application.

Episerver CMS and Kentico EMS Offer All-In-One Commercial Solutions
As we've said above, companies like Episerver and Kentico provide an all-in-one commercial solution for CMS that's fully integrated for CMS, e-commerce, and online marketing.

Episerver's CMS has been trusted for lead generation websites, brand and informational websites, customer services tool, as well as intranets and extranets. In fact, Forrester gives Episerver its second highest score for strategy in a new report among 15 vendors.

Meanwhile, Kentico's platform has been used in more than 25,000 websites by over 1,000 ad agencies and design firms worldwide. Gartner has recently awarded Kentico with a Challenger status in the Gartner CMS Magic Quadrant.

Both of these integrated marketing platforms have a broad set of features such as:
Enhanced design with multisite functionality from a single UI for developing mobile-ready sites
An optimized customer experience across a variety of channels
Integration testing for enhanced scalability and improved security
A single entity for quality, performance, and a host of new features
Advanced content management system features.

Or Manage Your CRM Pipeline With HubSpot
Another option is HubSpot, a company that offers a suite of products to help smaller companies grow and act like larger companies while connecting on all levels with potential customers.

Their HubSpot Growth Stack provides a full stack of products for marketing, sales, and customer relationship management (CRM) that are powerful when used individually, but better when used together.
Specifically, this solution delivers:
CRM through a free software program to help your company align sales and marketing. This can help you stay organized and manage your pipeline easily.
Marketing helps you grow traffic and convert more visitors into customers. This lets businesses increase their traffic, convert leads, and confidently attribute to their ROI.
Sales through sales teams who want to sell more, work less, and make their process more human. That can help you really accelerate sales and boost productivity.

Want to Know More About Integrated CMS Lead Nurturing?
As you can see, CMS integration isn't rocket science, but it does require a certain level of understanding and execution about everything from your CRM and marketing automation to your content management system and your e-commerce solutions.

Moonstone Interactive is one of the San Francisco Bay Area's leading CRM integration agencies We have deep experience in setting up systems with best practices to enable you to capture more leads and turn them into more customers. We invite you to contact us today about your integrated CMS lead nurturing and content personalization.

Request a Free Consultation