CMS Comparisons
Tips for Content Management
February 27, 2013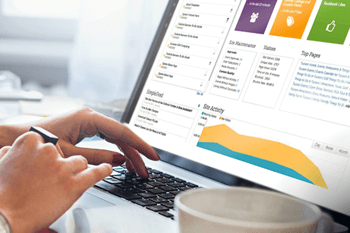 A CMS Comparison.
Moonstone Interactive recommends that you consider a Content Management System comparison (or CMS) that supports your marketing budget, long-term business needs, functional requirements, and usage expectations.
What's The Best CMS For You?
A CMS comparison will prove that these systems are a well-established product group. There are a wide variety of both Open Source and Commercial systems to choose from that are well-designed, well-tested, and supported by broad developer communities. The best CMS includes:
Commercial Systems provide the most robust solutions with the best user interfaces and a broad set of features, plus a single entity responsible for quality, performance, and new feature releases. A content management system comparison reveals that these solutions require a licenses fee ranging from a few thousand dollars to over a hundred thousand dollars. Market expertise is readily available for these systems. If hardened software and 3rd party technical accountability are important, these may be the best CMS for you.
Open Source Systems provide license-free software developed by many contributors within a branded community at a minimal cost. Quality and new feature responsibilities are self-policed and facilitated by the community of respective developers. In a CMS comparison, these solutions can have a broad set of features and work very well when the existing community modules support a company's requirements. Market expertise is readily available for the more popular systems. If you have the internal technical capability to assume the technical responsibility, Open Source solutions may be the Best CMS for you.
Proprietary Systems are custom-coded for the particular company's features and operational processes. All incremental features require more incremental custom coding. In general, these systems are very expensive to establish standard industry features. Market expertise is generally not available, and in a CMS comparison, these systems are difficult to support. Proprietary systems are usually the best CMS solution when there are unique requirements.
Moonstone has considerable experience in all three types of Content Management Systems. We can help you decide which approach / software best supports your business objectives and ongoing support requirements. Then, we can expertly design and develop you website to leverage the technology to delivery your website performance goals.